"Fairy Tail is all about friendship and what those bonds mean."

— Yura to Cana Alberona
Yura Alberona is a prominent member of Fairy Tail, a former member of Cait Shelter, and the older sister of Cana Alberona as well as the oldest daughter of Gildarts Clive. She is a possible candidate for the position of Guild Master of Fairy Tail.
Appearance
Edit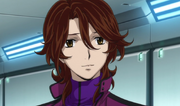 Yura is a young woman with long, unkempt dark brown hair and lighter brown eyes. She is well-endowed, though not as much as her sister and she tends to wear clothing that covers the entirety of her body and shows no skin at all. Her typical outfit consists of a light green and dark blue tanktop underneath a purple and grey top which is ripped towards her waist and has a diamond opening over her sternum, a magenta long-sleeve jacket which runs to just below her chest, and a set of blackish brown gloves. The rest of her outfit includes tight pants which match her grey and purple top, a brown belt with a Fairy Tail buckle, and a set of black and grey boots.
Personality
Edit
Synopsis
Edit
Magic & Abilities
Edit
Equipment
Edit
Relationships
Edit
It is possible that Yura's name originates from the japanse word meaning "swaying" (or) "swaying from side to side".

The name could also originate from the song, Yura Yura by Hearts Grow, which is a song believed to be about happiness.
Ad blocker interference detected!
Wikia is a free-to-use site that makes money from advertising. We have a modified experience for viewers using ad blockers

Wikia is not accessible if you've made further modifications. Remove the custom ad blocker rule(s) and the page will load as expected.