Rei Lee
Alias

The Tiger

Characteristics

Race

Human

Gender

Female

Age

20 (debut)
27 (X791)

Birthday

April 2

Hair Color

Black

Eye Color

Black

Blood Type

O

Professional Status

Affiliation

Lamia Scale

Guild Mark Location

Back

Occupation

Mage

Partner(s)
Base of Operations

Lamia Scale guild

Personal Status

Status

Alive

Relative(s)

Magic

Magic

Shape Shift

Image Gallery
Rei Lee is a Mage of the Lamia Scale guild and a prominent member of said guild, with his moniker being "The Tiger" since he is able to shape shift into many forms, including a tiger. His wife is Mei Lee while his younger sister is Marie Lee. He is currently twenty-seven years old.
Appearance
Edit
Rei is an attractive male with an average height of six feet, dark black hair, and oddly-pupilless eyes. His appearance reflects an issue with his body being covered as he wears a revealing yellow jacket with wing-like markings around his collar, a strap across his chest with a holster for his sword on the back, and a bandage wrapped around his lower abdomen possibly for a wound. His pants are white, simple, and very baggy, extending down to his upper ankle. His shoes are simple and reflect a traditional Chinese nature. His dark black hair is long and is often tied with a short white ribbon-like string in a ponytail with a single collection of his bangs hanging to his left side. On the ends of his sleeves and the bottom of his collar, flame-like designs decorate the trim and are supposedly a symbol of honor.
Personality
Edit
Rei surprises most people with his personality as he appears to be a simple, high-society man from a look. His laid-back, humorous personality leads others to believe he's more of an immature child than a simple, high-society man. He acts very childish, desiring things he can't have (ex. candy) and even going as far as to scam others for money to buy these things.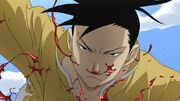 However, underneath this, he is a very dedicated, strategic, and grown man. He uses his childish demeanor to hide his true intentions so that he may infilitrate the places he needs to in order to bring pride to Lamia Scale and make it the best guild in Fiore. He believes in treating people right, and strongly protests to the abuse of women and children, having quickly become angry when
Erigor
began beating
Mei
and
Marie Lee
.
Magic & Abilities
Edit
Relationships
Edit
Ad blocker interference detected!
Wikia is a free-to-use site that makes money from advertising. We have a modified experience for viewers using ad blockers

Wikia is not accessible if you've made further modifications. Remove the custom ad blocker rule(s) and the page will load as expected.