Raksha
Kanji

ラクシャ

Rōmaji

Rakusha

Alias

Rashka

Characteristics

Race

Unknown (Possibly Exceed)

Gender

Male

Age

~2000

Eye Color

Gold

Professional Status

Affiliation

Edolas Royal Family

Occupation

Personal Escort

Base of Operations

Edolas Royal Palace

Personal Status

Status

Unknown (Presumed alive)

Image Gallery
Raksha is a mysterious being who serves as the personal escort of the Edolas Queen, Layla. His species is unknown, though he is possibly a mutated Exceed since he has demonstrated the use of Aera. His current status remains unknown, though he is presumed alive.
Appearance
Edit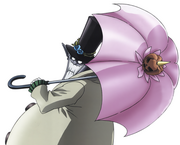 Raksha is an overweight man of average height. It is unknown if he has hair or even what color it is, though his eyes have been shown as gold. He is often shown with
Desdemoné
's
Magic Umbrella
which he can use for his Aera, without sprouting wings. His outfits tend to change but he is generally seen in a large, dark yellow tuxedo and a pair of fashionable black shoes. He usually wears a dark black top hat which sits on his long, slanted ears. The hat is generally encircled with a ring of colorful flowers, though he has been seen with a different ringlet style every day. He is always seen with a very large grin and he hides his eyes behind a set of circular shades.
Personality
Edit
Raksha, despite his appearance, is a quiet, unnerving man. He rarely speaks and does so only to speak of his intentions of a person, generally speaking of horrific torture. He is highly protective of Layla and seems to greatly admire her, and has mentioned her beauty several times, something which annoys Erza Knightwalker. He, himself is vain and is easily upset when someone speaks of his weight, although Layla generally prevents him from doing anything about it.
Abilities
Edit
Ad blocker interference detected!
Wikia is a free-to-use site that makes money from advertising. We have a modified experience for viewers using ad blockers

Wikia is not accessible if you've made further modifications. Remove the custom ad blocker rule(s) and the page will load as expected.