Mitsubachi
Alias

The Hornet

Characteristics

Race
Gender

Female

Age

Unknown

Height

71.1 cm (2'4")

Weight

30.1 kg (66.4 lbs.)

Hair Color

Red-Brown

Eye Color

Pink

Professional Status

Key Type

Silver

Owner
Previous Owner
Days

Monday to Thursday

Affiliation
Previous Affiliation

Personal Status

Status

Active

Way of Combat

Magic

Unknown

Key

Image Gallery
Mitsubachi is a Silver Key Celestial Spirit that can control large swarms of bees and the like (i.e wasps). Her key is currently owned by Lucy Heartfilia, and her former owner is Katja.
Appearance
Edit
Mitsubachi appears as a red/brown-haired spirit with light pink eyes. She is the shortest Celestial Spirit, something she strongly dislikes, her height being 2'4". Her stinger is noticably taller than her, and entirely envelopes her arm, which only increases its power. She wears clothing that makes her resemble a bee, with flat chinese-inspired shoes and a soft, wool collar. She tends to emit a golden glow.
Personality
Edit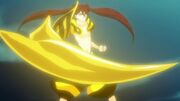 Mitsubachi is a fierce, and feisty Celestial Spirit. She will quickly become annoyed at her summoner if they summon her near water, which she strongly dislikes. She has a habit of falling into
cocktails
because of her small size, and has come to strongly dislike cocktails because of it. She can be highly determined when it comes to fighting an opponent, going as far as to invoke thousands of bees to defeat her opponent.
She cared deeply for her former owner, Katja, and expressed a strong desire to protect her. Her feelings for Katja went deep enough that she felt extreme guilt when Katja lost her magic, feeling as though it was her fault for not protecting her. Her guilt and care caused her to consistently summon herself to "check up" on Katja, even after their contract was dispelled with the loss of her magic.
At some point, Katja obtained Mitsubachi's key.
Magic and Abilities
Edit
Bee Magic: Mitsubachi uses what she calls "Bee Magic".
Battles and Events
Edit
Her name, Mitsubachi means "Honey Bee"
Ad blocker interference detected!
Wikia is a free-to-use site that makes money from advertising. We have a modified experience for viewers using ad blockers

Wikia is not accessible if you've made further modifications. Remove the custom ad blocker rule(s) and the page will load as expected.