Merahyō
Alias

Mera

Characteristics

Race
Gender

Female

Age

Unknown (appears in her teens/pre-teens)

Birthday

October 4

Hair Color

Brown

Eye Color

Brown

Blood Type

O

Professional Status

Key Type

Silver

Owner
Previous Owner

Unknown

Days

Monday to Thursday

Affiliation
Previous Affiliation

Unknown

Personal Status

Status

Alive

Way of Combat

Magic

Portrayal

Japanese Voice
English Voice

Key

Image Gallery

Merahyō (Literally translated as "Flare Panther") is a Silver Key Celestial Spirit that can utilize all forms of fire. Her key is currently owned by Lucy Heartfilia.
Appearance
Edit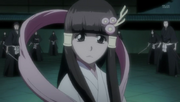 Mera is a young, attractive Celestial Spirit with long dark brown hair and soft brown eyes. She wears a tree-like assortment in her hair and her bangs are held by ring-like tubes which are to keep the strands straight, according to Maneki. She wears layered clothing, generally consisting of a light pink undershirt, a white top, purple hakama, white tabi and simple sandals with light pink straps. Her obi is a light yellow and appears to be frayed at the ends. She wears a dark pink scarf-like accessory around her neck and shoulders, which possess large, gold bells on the ends which are the source of her magic. She possesses a sword as well, which she can use to generate fireballs like her bells can.
Personality
Edit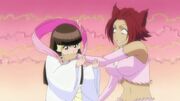 Merahyō is generally a cheerful, calm Spirit.
She rarely becomes annoyed or upset, even when she is unable to defeat her opponents, making her opposite to fellow Celestial Spirit,
Maneki Neko
, whom is also the only one who can make her break this calm demeanor. She has comical arguments with Maneki, generally over Maneki's flirtatious attitude and how she acts towards men. She is sensitive to the harming of her fellow Spirits, and will readily defend them, even if it means placing herself in harm's way.
Although they argue a lot, she has a deep friendship with Maneki and expresses a desire to protect her, despite their arguing. She also has a friendship with Mitsubachi, whom she was partnered with several times during the series.
Synopsis
Edit
Magic & Abilities
Edit
Battles and Events
Edit
Ad blocker interference detected!
Wikia is a free-to-use site that makes money from advertising. We have a modified experience for viewers using ad blockers

Wikia is not accessible if you've made further modifications. Remove the custom ad blocker rule(s) and the page will load as expected.