Marie Lee
Kanji

利真利

Rōmaji

Ri Mari

Alias

The White Fang

Characteristics

Race

Human

Gender

Female

Age

13 (debut)
20 (X791)

Birthday

January 19

Hair Color

Black

Eye Color

Black

Blood Type

O

Professional Status

Affiliation

Lamia Scale

Guild Mark Location

Upper arm

Occupation

Bartender

Previous Occupation

Mage

Previous Team
Previous Partner(s)
Base of Operations

Lamia Scale guild

Personal Status

Status

Alive

Relative(s)

Magic

Magic
Weapons

Martial Arts
Kunai
Needles

Portrayal

Japanese Voice

Romi Park

English Voice

Caitlin Glass

Image Gallery

Marie Lee is a former Mage of the Lamia Scale guild and the younger sister of Rei Lee as well as the sister-in-law to Mei Lee. She is currently twenty years of age and an already retired Mage, working as a bartender at Lamia Scale.
Appearance
Edit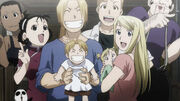 Prior to the timeskip, Marie was a short, Chinese woman with long black hair tied into a style similar to Amaterasu, and large, childish, dark blue eyes. She had a fringe of six hairs across her forehead and carried a small panda whom she called Mimi. Her typical outfit, a traditional Chinese uniform, consisted of a light pink tunic, white pants, white tabi, black shoes, and a short red hakama over all this with an attached travel pack. She was briefly shown in winter clothing, whereas she only wore a white and light green coat and white gloves over this outfit. She hid kunai within her sleeves as a result of being trained as a ninja. Her Lamia Scale mark is placed on her upper arm and she is noted to have a scar on her back from an unknown battle.
After retiring as a Mage and becoming a bartender, she is signifcantly taller and the rest of her appearance has noticably matured. In place of wearing the stray strands of her hair long, she chooses to form circles behind her ears. She retains her bangs and jagged bun-style, but her outfit has changed. She instead wears a red Cheongsam and her usual white tabi and black traditional Chinese shoes.
Personality
Edit
Magic & Abilities
Edit
Ad blocker interference detected!
Wikia is a free-to-use site that makes money from advertising. We have a modified experience for viewers using ad blockers

Wikia is not accessible if you've made further modifications. Remove the custom ad blocker rule(s) and the page will load as expected.