Maneki Neko
Kanji

招き猫

Alias

The Playful Cat/Kitten
Red Spirit
Ace

Characteristics

Race
Gender

Female

Age

Unknown

Height

162.5 cm (5'4")

Weight

46 kg (101.6 lbs.)

Birthday

November 7

Hair Color

Red

Eye Color

Green

Blood Type

AB

Professional Status

Key Type

Silver

Owner
Previous Owner
Days

Sunday to Friday

Affiliation
Previous Affiliation

Personal Status

Status

Active

Way of Combat

Magic

Cat Magic

Key

290px
Image Gallery
Maneki Neko, more commonly called Neko is a Silver Key Celestial Spirit with the ability to manipulate animals and her fellow felines. Her key is currently possessed by Lucy Heartfilia and formerly by Karen Lilica.
Appearance
Edit
Maneki Neko manifests herself as a werecat-like being. She possesses dark red hair which forms in two ears on the top sides of her head, with her bangs pulled back and smoothed down the center of her head. She has peach/apricot-colored skin, although the majority of her body is covered in light pink fur and she sports a tail. She has sharp claws for nails, which is a manifestation of her cat-like nature. She can easily use this as a means of attacking her opponents, although she rarely does.
Personality
Edit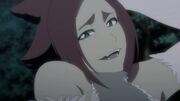 Maneki is typically a playful, flirtatious spirit. She refuses to fight male opponents she deems as cute (i.e
Natsu Dragneel
,
Loke
) and will strongly resist her owner to avoid doing so. She appears to be a masochist as well, having asked for punishment from Natsu for not protecting him (albeit Natsu rejected). Nevertheless, she can be extremely serious when it comes to protecting her owner as she forcefully summoned herself in order to protect
Lucy
from Juvia, although she was quickly defeated by
Juvia
's Water Magic and sent back to the
Celestial Spirit World
.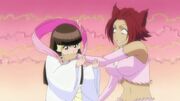 She can be highly comical and jocular, as she often teases fellow Celestial Spirit
Merahyō
about her flat-chestedness. The two are often seen arguing, even during battles in which they should focus. She also seems to try and start fights with
Shiva
, who refuses to fight with her, because they are "fellow Celestial beings". Maneki dislikes Shiva's formal and generally polite attitude, often calling her "uptight".
Magic and Abilities
Edit
Cat Magic:
Battles and Events
Edit
Her name is based off that of the Maneki-neko which are viewed as being able to bring good luck to the owner.

This good luck cat has been referenced in the anime, as Lucy, after gaining possession of Maneki's key, has had a significant increase of both good and bad luck.
Ad blocker interference detected!
Wikia is a free-to-use site that makes money from advertising. We have a modified experience for viewers using ad blockers

Wikia is not accessible if you've made further modifications. Remove the custom ad blocker rule(s) and the page will load as expected.