Lisanne
Kanji

利山

Rōmaji

Rizan

Alias

Lisanna

Characteristics

Race

Human

Gender

Female

Age

18

Birthday

Year X766

Hair Color

Blonde

Eye Color

Blue

Blood Type

O

Professional Status

Affiliation

Fairy Tail

Previous Affiliation

Unknown

Guild Mark Location

Left Side of Neck (former)
Right Hip (current)

Occupation

Mage

Team

Team Fairy Tail (supportive/back-up member)

Base of Operations

First Fairy Tail Building (former)
Second Fairy Tail Building (current)

Personal Status

Status

Active

Counterpart

Magic

Magic

Requip

Image Gallery
Lisanne (利山, Rizan), more commonly known as Lisanna is a Mage of the Fairy Tail guild, and a prominent user of Requip, beside Erza Scarlet. She is a central supportive character.
Appearance
Edit
Lisanne is an attractive young girl with long, generally unkempt light blonde hair and sparkling blue eyes. She has a curvaceous, well-endowed form, like most of the females within the series. In the beginning of the series, she was shown wearing a number of outfits and using Requip to change her clothes. However, since maturing through the course of the series, she has begun to wear a more simple outfit. Her Fairy Tail mark was positioned on her neck at this time.
In X791, she wears her hair long with the bangs curling around her face and framing it. She wears a white beret on her head, a yellow Fairy Tail charm, and a yellow dress-like outfit. The outfit has a dark black belt, and brooch. Her collar is lined with fuzzy white wool, which keeps her warm in cold conditions. Her Fairy Tail mark has been moved to her right hip, and is the first within Fairy Tail to have her mark moved. She polishes her look with a set of white boots with black soles.
Personality
Edit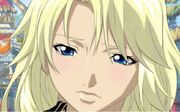 Lisanne is viewed as being an eccentric, but caring Mage. She enjoys things that are quite odd (ex. mayonnaise on mashed potatoes) and speaks with a broad, intelligent vocabulary. She is not only intelligent in her vocabulary, but in magic as well, demonstrating the ability to identify and state the basics of just about any magic she sees, such as when she identified Lucy's magic and later, Natsu's. She possesses significant intelligence and skill in the use of her magic, both being reasons she is one of the most prominent members of Fairy Tail.
She strongly dislikes perverts, and seems to be annoyed by masochism, as shown when she became this way towards Juvia Lockser and nearly beat Haji after his "groping" of Lucy's breasts. She also seems to get annoyed when Gray strips or appears even half-naked, though she is shown deeply blushing, an implication of a crush.
Widely respected as a user of Requip, Lisanne is prideful of her fame as a Requip user and will readily defend it, as shown at the times where she has attacked Kaoru Aijibana for teasing her, and even attacking Makarov after he implied that her magic might be weakening.
Lisanne joined Fairy Tail when she was quite young, possibly eight. Her relatives are believed to have died.
Magic and Abilities
Edit
Relationships
Edit
Ad blocker interference detected!
Wikia is a free-to-use site that makes money from advertising. We have a modified experience for viewers using ad blockers

Wikia is not accessible if you've made further modifications. Remove the custom ad blocker rule(s) and the page will load as expected.