Grimoire Heart Base
Located In
Controlled By
Affiliation

Grimoire Heart
Grimoire Heart Base, as the name suggests, is the base for the Dark Guild, Grimoire Heart.
Exterior Design
Edit
The outside of the base resembles a catherdral, despite the fact that it is a warehouse. It appears to be very old as it is dirty and unkempt on the outside, with garbage overflowing out of the tin cans and animals running wild. It can, in some cases, be described as abandoned and condemed, as Ikana stated that the only reason they weren't a Legal guild was because they couldn't pass the "guild inspection", though this may not relate as she was joking.
Interior Design
Edit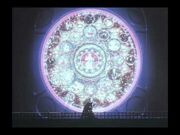 The inside of the base matches that of a catherdral but is more well kept than the outside. The floors are often swept by
Madeline
and the benches are also often dusted by
Assassin
. The central feature of the base is a stained glass window located in the first room seen when one enters the base, a feature which is deeply treasured by all of the members of the guild, including Guild Master, Ikana Suzanna.
Ad blocker interference detected!
Wikia is a free-to-use site that makes money from advertising. We have a modified experience for viewers using ad blockers

Wikia is not accessible if you've made further modifications. Remove the custom ad blocker rule(s) and the page will load as expected.