"Sometimes, I wonder why I exist, but then I realize that I was never meant to die."

— Desdemona to
Natsu Dragoneel
Desdemona
Rōmaji

Desdemona

Alias

Des
Demon of the Dark
Demona

Characteristics

Race

Human

Gender

Female

Birthday

February 14

Hair Color

Black/Purple

Eye Color

Gold/Yellow

Blood Type

B

Professional Status

Affiliation

Herself

Occupation

Independent Mage (presumably)

Base of Operations

Unknown

Personal Status

Status

Unknown

Counterpart

Magic

Magic

Unknown

Image Gallery
Desdemona is a mysterious, presumably independent Mage. She appears as an antagonist at several points and a heroic supporting character at other points. She is currently marked as an S-Class threat to Fairy Tail and her whereabouts are unknown.
Appearance
Edit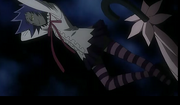 Desdemona is a dark-skinned pre-teen looking girl with spiky, dark black/purple hair and gold eyes. She has distinctive cross-like stigmata markings on her forehead, approximately six. She is often seen in fine/high-society 19th Century clothing. Her standard outfit consists of a white, frilly dress shirt with a black ribbon tied around her neck, a black skirt, white and black stockings, and black dress shoes. She was previously seen wearing a dark black rosary, but this was found at the scene where she engaged in a battle with a still-unknown person, and is currently in the possession of Natsu Dragneel. Her
Magic Umbrella
is generally found on her person, often acting as her only companion since it has the ability to speak.
Personality
Edit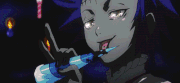 The first personality traits mentioned or pointed out by others when describing Desdemona are generally her sadistic glee at the harm of others, especially Fairy Tail Mages and her playful attitude. She enjoys inflicting pain on others and viewing their reactions, and then criticizing them. She has a superiority complex, according to Natsu, as she considers Mages who aren't Independence (meaning they belong to a guild) beneath her and deserving to be killed, in an especially painful way.
She has a childish desire to constantly be entertained and dislikes boredom strongly, regarding it as the hardest thing to live through. When she tortures persons, she tends to take them to a place where there is a considerable amount fo things that would be considered "happy", such as presents, stuffed animals, and candles, the latter which she uses to kill her opponents.
Magic and Abilities
Edit
Desdemona means "of the devil"
Ad blocker interference detected!
Wikia is a free-to-use site that makes money from advertising. We have a modified experience for viewers using ad blockers

Wikia is not accessible if you've made further modifications. Remove the custom ad blocker rule(s) and the page will load as expected.