Beatrix Benedict
Kanji

Benedikuto Beatorikusu

Rōmaji

弁音出伊久都弁亜都陸寿

Alias

Bea
The Black Widow
Beatrix the Knife

Characteristics

Race

Human

Gender

Female

Age

29

Birthday

April 17

Hair Color

Black

Eye Color

Pink

Blood Type

O

Professional Status

Affiliation

Lamia Scale

Guild Mark Location

Abdomen

Occupation

Mage

Team
Base of Operations

Lamia Scale guild

Personal Status

Status

Alive

Magic

Magic

Unknown

Weapons

Portrayal

English Voice

Laura Bailey

Image Gallery
Beatrix Benedict (弁音出伊久都 弁亜都陸寿, Benedikuto Beatorikusu), nicknamed Bea, and known as The Black Widow and Beatrix the Knife is a Mage of the Lamia Scale guild and a member of Team Lamia Scale B.
Appearance
Edit
Beatrix is a well-endowed, somewhat tall female with a voluptuous body that causes others to be lascivious towards her. She possesses long, wavy black hair and slit-like red-pink eyes that are calculating and fierce. Her hair cascades down her back with her bangs curling about her face and cheeks and her lips, often shown in a sneer, are covered in a thick layer of red lipstick. Her most notable feature is a red dragon-like tattoo on her sternum which is possible the source of her power.
Her outfit consists of a long, black, back-less, sleeve-less dress which leaves a considerable amount of her cleavage showing as well as her tattoo. She wears her Magic Gloves like opera gloves and she is never seen without them. The gloves are full-length and cover the majority of her arms, leaving only some of her upper arms showing. The gloves aren't fingerless in order for their purpose to be served. She also wears thigh-high black boots that resemble those worn by Strawberry Dawson, being high-heeled and up to her upper thigh.
Personality
Edit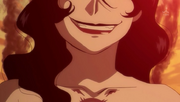 Beatrix is a sadistic, strategic and murderous personality. She hesitates little when it comes to murdering and/or causing harm to others and will even attack her so-called "companions", should they interfere with her intentions. She easily sets large plans and traps for her enemies to play into, acting as the central leader of
Team Lamia Scale B
, despite being its' reserve member. She is haughty and very prideful, and will harm someone if they insult her, regardless of her relationship with them.
She dislikes ambitious people and believes it is her purpose to remove them from the world, having made attempts on Natsu Dragneel's life at several points. In addition, she strongly hates "gentle, kind people" and has also made several attempts to kill Lisa as well, especially after she spoke of Fairy Tail being an honorable guild. She has little regard for respect and will often taunt, torture and break down her opponents, taking joy in their pain.
Magic & Abilities
Edit
Ad blocker interference detected!
Wikia is a free-to-use site that makes money from advertising. We have a modified experience for viewers using ad blockers

Wikia is not accessible if you've made further modifications. Remove the custom ad blocker rule(s) and the page will load as expected.