Amaterasu
Kanji

天照

Rōmaji

Amaterasu

Alias

Amaterasu of the Sabretooth

Characteristics

Race

Human

Gender

Female

Hair Color

Brown

Eye Color

Gold

Professional Status

Affiliation

Sabertooth

Guild Mark Location

Left Hip

Occupation

Mage

Base of Operations

Sabertooth Guild

Personal Status

Status

Alive

Relative(s)

Magic

Magic
Weapons

Ornamental Clubs

Image Gallery
Amaterasu is a Mage of the Sabertooth guild, one of its lower members. Despite being the daughter of Jiemma and therefore the sister of Minerva, she is "weak" in the guild's eyes and is widely regarded as a servant to all the members, something Yukino Aguria noted as being Jiemma's punishment for her being weak.
Appearance
Edit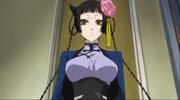 Amaterasu is a well-endowed female with large, golden eyes and black hair with thick, square bangs. Her hair is tied in long braids and cat ear-like buns, accompanied by a pink rose and long, gold tassel on the left bun. She wears a short, black, and lavender cheongsam that is decorated with dark-pink petals, and a blue jacket. In addition, she wears thigh-high black tights, black flat shoes, and gold anklets with bells. She consistently carries with her two, broad ornamental clubs which she uses to attack her enemies in place of magic. They are gold, blue, and maroon in color, and each club has a blue tassel on the top. They are composed of a very heavy material, as single swing of them is capable of breaking pavement and even buildings.
Personality
Edit
Amaterasu is a silent, collected personality who expresses a talent in calligraphy and haiku, though she prefers to hide this talent. Due to her father's shame and suppression, she has developed an inferiority complex, believing herself to be beneath others. She developed a good friendship with Yukino Aguria, and secretly remained friends with her after her excommunication.
Nevertheless, she has a submissive nature towards her sister and father, as she attacked Yukino with her ornamental clubs after she was commanded so by her father and sister. She regretted this decision later, although she expresses great fear towards rejecting her father's (or her sister's) will.
Grand Magic Games arc
Edit
Magic and Abilities
Edit
Relationships
Edit